Small dimension light weight 6V 10Ah Lifepo4 battery pack with built-in BMS
Product Detail
Product Tags
Model No.
6v/10Ah
Nominal voltage
6V
Nominal capacity
10Ah
Max. continuous current
10A
Momentary current
10A
Peak current
30A
Max. charging current
2C
Charging voltage
7.3V
Charging current
1.5A
Charge temperature
0°C~45°C
Discharge temperature
-20°C~60°C
Storage temperature
-10°C~45°C
Weight
1kg
Cycle life (80%DOD)
>

2000 times

IP class
IP21
Dimension
40mm*70mm*170mm
Application
Home smart device,Gas meter,Industrial flow meter
1.The metallic casing 6V 10Ah LiFePO4 battery pack for home smart device.
2.long cycle life,durable battery pack,large stock
3.Safe and stable,excellent quality and favorable price
4.Mini-power for home use
5.Special design for intelligent device
6.Portable,light weight,convenient
7.Green energy,protecting the environment
8.Wide range working temperature,Compact Design
9.Fast recharging speed,Professional team and after-sales
10.Ensuring win-win situation,support small order
Parameters and Application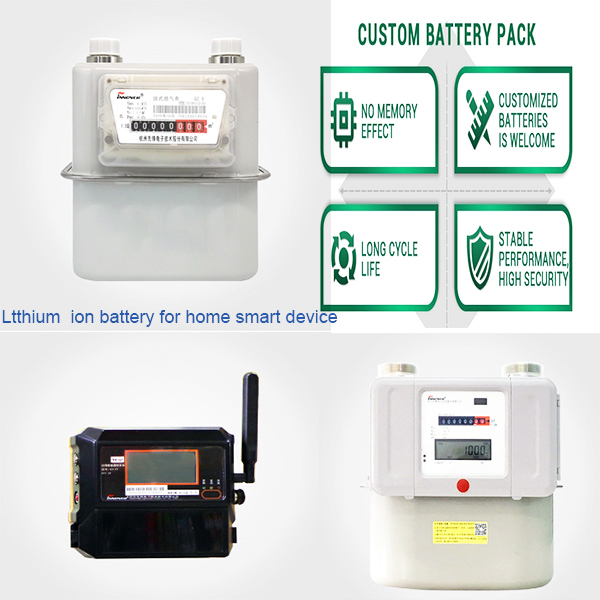 The 6V/10Ah battery pack is designed for home intelligent device,like the Gas meter,Industrial flow meter etc.It is light wight,easy to operate,safe and widely used in daily life.
The Advantages and Characteristics of LiFePO4 Battery
1.Volume: The capacity of LiFePO4 battery is bigger than lead- acid cell with the same volume.
2.Weight: LiFePO4 is light. The weight is just 1/3 of lead-acid cell with the same capacity.
3.Discharge rate: LiFePO4 battery can discharge with maximum current, it is used in electricvehicles and electric bicycles.
4.No memory effect: No matter the LiFePO4 Battery is in which conditions, it can be charged anddischarged whenever you like, no need to discharge totally then charge for it.
5.Durability: The durability of LiFePO4 Battery is powerful and consumption is slow. The time ofcharging and discharging is more than 2000times
6.Security: LiFePO4 battery passed the strict safety testing, with higher safety performance.
How to choose a suitable battery, kindly reply the following questions pls:
1.The space for putting the battery,Dimension,length*width*height(mm)
2.The Voltage and capacity,how many vlotage and Ah
3.The max charge current and discharge current(A),to config the proper BMS system and protect the battery
4.The working temperature,(Charge and discharge operating temperature,℃)
5.Full charge voltage and cut off voltage
---
Previous:
China manufacturer 19 inch rack mounting 48V 50Ah lithium ion battery (LiFePO4) for telecommunication
---